One of Hassett's area of expertise is event logistics services. Not only do we provide transportation for tradeshows, we are a logistics provider for most of the top entertainment and concert merchandise companies. These companies -- ranging from start-ups to the biggest names in entertainment -- share a laser focus on customer satisfaction and the ability to adapt to changing schedules and environments.
COVID-19 has had a devastating impact on the economy and nearly all industries have shared the pain. Our customers in event logistics and related services have been particularly affected, as sports, concerts and tradeshows have come to a halt. I'd like to share a couple stories of how our customers have adapted to the current environment and found ways to keep their teams busy serving new customers.
There are several products that are in high demand and hard to find. We've all heard of the
distilleries who are now producing hand sanitizer. But did you know that some merchandise companies are using their stock of t-shirts to make face masks? Culture Studios is a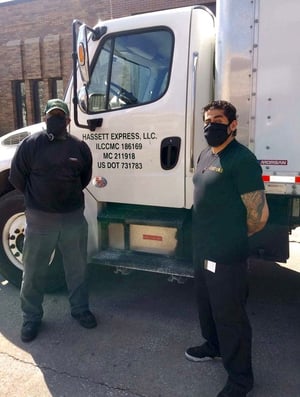 Chicago company who started printing one-off t-shirts and selling them out of their trunks in 2008. Fast-forward to 2020, where they run the latest in apparel decorating technology out of their 50,000 square foot facility. As the impact of COVID-19 grew and the demand for event apparel diminished, Culture looked for ways to keep their team employed and also support their community. Using their garment stock, they ramped up production of face masks. They now produce them for a number of businesses. They have also created an online store "Stop the Spread (by) Spreading the Love" where 20% of total sales are donated to local bars, restaurants and other small businesses. Hassett was happy to purchase masks for our drivers and front-line team members. If you need masks (and hand sanitizers) or just want to support this
effort, go to shop.culturestudio.net
Thanks to Nick Santo, Director of Logistics, and the entire Culture Studios team!