AJ is the Vice President of Expedited Services and has served on the Hassett Team for 17 years.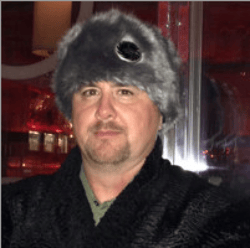 What work does your vertical focus on?
Our team focuses on exceptional service with various logistical specifications supporting trade shows, concerts, company events, and plenty of ad-hoc shipments from a broad perspective. The term Expedited implies accelerated movement, and our team applies that sense of urgency to all steps linked to our customers' freight. Whether it be a meticulously choreographed plan to deliver in a snug time frame for a high-profile event or a critical last-minute need to move freight the same day, our Expedited Services team embraces the opportunity to serve you. Because we acknowledge that your shipping needs don't fall into a neat 8 to 5 workday, we're available 24/7/365.
Tell us a little about yourself?
I began my journey in the transportation industry at the age of 16, working part-time after school unloading ocean containers at a freight station near the Port-of-Los Angeles. Upon graduation, I transitioned into a full-time office position with CFS and then accepted a transfer to their Seattle location, coordinating import intermodal moves. After a year in Seattle, I received a growth opportunity with a new transportation company back in "sunny" Los Angeles handling imports and customs brokerage. Despite expanding my logistics knowledge learning to classify import shipments and write customs entries, I recognized that this particular aspect of the industry was not an ideal fit for me. I then elected to transition into a new logistics role handling air and ocean exports and enjoyed this experience for 12 years before joining Hassett.

What is a fun fact about yourself?
It is essential for me to obtain a work-life balance, and what some may see as extreme life adventures and experiences, I find them relaxing, and it clears my mind. For most of my life, I have been an avid downhill skier, received certifications in offshore Bluewater sailing, sky diving, and plan to certify in paragliding next. I am really not an adrenaline junkie; I pursue the outdoors, meet the challenges presented, and accept the diverse perspectives to grow as a person and leader.

What does The Hassett Way mean to you?
From my perspective, The Hassett Way transcends into three key fundamentals; Leadership, Communications and Agility. My leadership engagement in managing the Expedited vertical originates with our team accepting full ownership with integrity in each transaction. Our communications are transparent to ensure customers and partner carriers remain updated with shipment status. We stay agile with our strategy and tactical options and stand poised to accept last-minute requests when unplanned situations arise. Like skydiving, it's always good to have a backup parachute! We feed off the pressure and say yes, notwithstanding the odds stacked against the customer or our team, so bring it; we are ready!