Steve Langhart is the Vice President of Sales & Business Development and joined the Hassett Team in November of 2020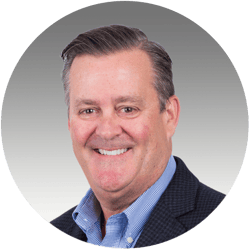 What work does your vertical focus on?
Our Sales team serves existing and prospective customers' strategies by distinguishing how our logistic service options resolve their challenges. I am delighted to support our Sales team that includes Business Development Executives Mike Cimo and Tim Cunningham, both tenured and worthy Hassett Logistics experts who enrich your sales experience. We listen to learn about your obstacles and present solutions carrying your valued commodities to the final destination in a safe, efficient, and scheduled fashion. We build collaborative partnerships blending our sturdy resources for sensible and cost-effective shipping solutions. Hassett achieves this by purposefully building trust that recognizes each customer's unique set of business objectives, standards, complexities, and financial thresholds. Our teams employ a suitable logistics outcome utilizing one of our three service verticals Network, Expedited, and Specialized, and the various tactical options within each. Through consistent follow-up, availability to answer questions, shouldering business changes, and remaining nimble, we forge a predictable relationship that consistently delivers the expected outcomes; we call it The Hassett Way!
Business Development continuously scans the economic landscape to locate the next "it" by studying new product verticals, high-demand sectors, and opportunities to improve service for others. Sales present prospective customers with logistics solutions that blend our core values and broad capabilities. Maintaining a deep bench of solutions allows us to leverage our robust air and ground networks, engage trusted partnerships, and empower the entire Team Hassett to deliver as intended.
The Marketing team produces creative digital content that presents our logistics scalability and drives sales lead generation. The Hassett website helps current customers and attracts prospective customers through navigational ease, and quick links for high-frequency channels. Marketing adds additional content promoting our social media channels LinkedIn, Twitter, Facebook, and Instagram. We offer various ways to connect with Hassett, and here are several ways to set you up today!
Subscribe to The Hassett Way Blog
Tell us a little about yourself?
My professional career took off in the airline business many years ago, when there were still propeller-driven aircrafts, smoking sections, you introduced yourself and held conversations with passengers seated next to you, and yes, I wore a business suit to travel in no matter the destination. The privilege of working in the aviation business offered the opportunity to grow in personal and business capacities, meet and work with exceptional people, live in fabulous cities, and travel extensively. Through these journeys, my family and I have experienced enjoying the precious insights on social, economic, and cultural diversity, learning and partaking in local traditions, and enjoying the variety of cuisine! These adventures have enriched our welfare, created life-long memories. "It's where we go, and what we do when we get there, that tells us who we are" - Joyce Carol Oats.

What is a fun fact about yourself?
I have enjoyed golfing since my mom taught me the game at age nine. After completing my chores during summer school breaks, she would drop me off at the city golf course, hand me five dollars to play nine holes, and enjoy a hot dog and soda pop at the end! She provided specific instructions as moms do, check-in with the pro shop, be courteous, follow the etiquette, learn from others how to play better, and observe how not to behave! These early lessons served me well, playing with customers, peers, family, and friends. Golf has turned out to be much like my life with numerous ways to play it, strategies to employ, selecting the right club for the shot, and recovering when it goes off-line. You connect with others in challenging settings and elements, so have a plan and acclimate, and if you are lucky enough, play it late into life and always enjoy the journey! Thanks, mom!

What does The Hassett Way mean to you?
We serve our customers and each other like guests in our own homes, which develops into long-term sustainable relationships enhanced with each engagement. We realize it's a team sport, know our position on the field and the obligations that come with it. Our depth of professional talent and fearless resilience allows us to perform like no other, and we enjoy it in the process! On behalf of Team Hassett, thank you for your business, partnership, and flexibility over the past year; we embrace the privilege to be here with you and are passionate about our future success!