Traci is the Vice President of Technology & Strategic Planning and has been with Hassett for a little over three years.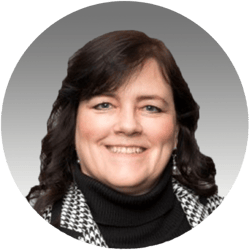 What does your department focus on?
Our department is Information Technology. We are responsible for the architecture, hardware, software, and networking of computers and applications in the company. We are unique because our IT includes technical infrastructure experts and another group made up of application and business expertise that looks at our applications' business processes and functional designs. Our focus is on using technology to enable the business process instead of the business process built around the technology. These two groups complement each other and provide that strength to our business teams today.
How has technology strengthened the logistics industry?
Technology offers the industry consistency, reliability, scalability, and the resilience needed to handle dynamic change if everything aligns. Logistics enables commerce so that commerce can promote growth in the world. With technology supporting that, we continue to transform and innovate. We have seen technology in this industry grow from recording what happened yesterday so that we can look at it tomorrow, all the way to predicting what may happen tomorrow based on what happened just one second ago. Also, agility is vital to this industry. Without the technologies available today and those on the verge of innovation, there is no agility. The Pandemic proved that anything could change quickly, without notice.

What has Hassett done to stay on top of the constantly changing technology trends?
We are continuously looking at the technology transformation, evaluating what it would provide for us and whether it genuinely enables us. We have taken the approach to look at our technology as its own Supply Chain. We spend time looking at our suppliers, infrastructure and applications, and the customer base, including the Hassett team and our end customers. We build partnerships with our technology suppliers, comprehend their goals from our supply side. Each piece of technology needs to support business change and provide the opportunity to innovate. We continually decide if 'this and that' allows us to service our customers how we would like to do so. A constant evaluation process will enable us to grow and identify areas of change and technology to streamline.
What does The Hassett Way mean to you?
It's about the team. When I came to Hassett, I realized that our strength was in our focus on the customer. It is deep-seated in our daily process. Hassett focuses on meeting the need and will do what it takes to support the customer at every cost. I know every company says that, but here it is a part of everything we do. So, what differentiates Hassett? What makes it the 'Hassett Way'? We also treat our suppliers like customers. Hassett knows that our suppliers are just as important in the delivery of our services. We celebrate our suppliers and our partnerships with them. We celebrate our internal teams. The Hassett Way, to me, is realizing that we are all one. We all contribute. We are all needed to make the service strong. So, we are all part of providing excellent service to the customer.