Hassett Express has been awarded the 2017 Southwest Cargo Logistics Partner of the year award, marking the fourth consecutive year this award was presented. The annual award is given by the Southwest National Accounts Leaders in recognition of an account that has exemplified being a good partner. Southwest Cargo employees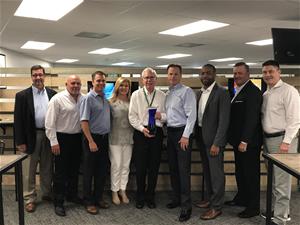 (pictured on the right) presented the award to Executive Vice President, Mike Stone, & Vice President of Customer Relations, Don Prentice, at Hassett's corporate office in Oakbrook Terrace.
Wally Devereaux, Senior Director Cargo and Charters, stated "Hassett Express has been a fantastic customer of ours for many years. They are a great example of a company that does things the right way and are very deserving of this recognition. We appreciate their business and are honored to be one of their partners."
Michelle Halkerston, Hassett President & CEO, expressed her gratitude. "We thank the Southwest Cargo team for this award. We value their partnership and shared focus to provide high quality and consistently reliable service to our customers. The backbone of a successful company is its people, and we are fortunate to work with a great group at Southwest."
Thank you Southwest Cargo for choosing Hassett Express as the 2017 recipient. We look forward to our continued partnership.
(Pictured left to right: Mike McLaughlin, John Barnes, Wally Devereaux, Michelle Halkerston, Mike Stone, Don Prentice, Brewa Kennedy, Steve Langhart, & Kevin Russell)