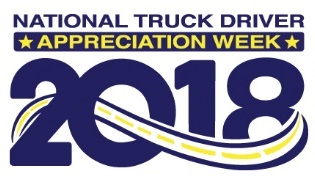 Oakbrook Terrace, IL — Today, Hassett Express, along with American Trucking Associations and the entire trucking industry is beginning a weeklong celebration of the millions of professional truck drivers who deliver America's freight safely and securely every day.

This year's National Truck Driver Appreciation Week runs from September 9 through September 15.
"We are grateful for all the hard work that our drivers do," said Matt Sherman, Director of Safety, Compliance & Logistic Planning. "While we feel it's important to recognize the job our drivers do throughout the year, we're always excited to highlight their efforts and dedication to hard work during this very special week."
There are more than 3.5 million professional truck drivers nationwide, including the 49 Team Hassett Drivers – delivering all types of goods – from kiosks to concert merchandise, magazines to medical equipment. Hassett Drivers drove more than 1.2 million miles last year, equivalent to 232 round-trip drives from New York City to Los Angeles. Eighty percent of U.S. communities depend solely on trucking to deliver goods.

This year, Hassett Express asks you to join them and ATA in recognizing the significant contributions our professional truck drivers make to our lives. Their efforts contribute directly to our quality of life and truly move America forward.
To learn more about how essential the trucking industry is, visit www.ntdaw.org.