Hassett Express, a Chicago-based company specializing in freight forwarding and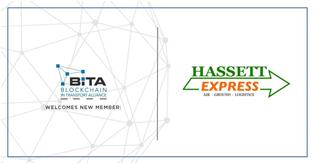 logistics, announced it has joined the Blockchain in Transport Alliance (BiTA). BiTA is an organization focused on the development of blockchain standards and education for the freight industry.
The transport of shipments from point A to point B and every step in between involves multiple parties and touchpoints. Blockchain is a technology that will help connect participants - and information – across the transportation transaction. "We are excited about the potential of blockchain and feel it is important to engage with other BiTA members to develop the framework for future applications," said Traci Richard, Hassett's Vice President of Technology & Strategic Planning.
New and improved technology continues to rapidly bring changes to the transportation and logistics marketplaces. In May 2017, Deloitte predicted that 10 percent of global GDP would be built on top of blockchain applications. For logistics and transportation, the technology may have an even bigger impact, promising to revolutionize this $8 trillion global industry.
Blockchain is a distributed ledger technology that provides consensus, provenance, finality and immutability of business transactions and digital assets. These characteristics enable participants in a blockchain ecosystem to benefit from increased trust, greater transparency and reduced friction.
"On behalf of the members of BiTA, I want to welcome Hassett Express to the Alliance," said BiTA President Chris Burruss. "As blockchain digitizes, decentralizes, secures and incentivizes the validation of transactions, it will fundamentally change the transportation/logistics industry. With the input and assistance of companies like Hassett Express, BiTA members will develop industry standards that will determine blockchain's use in transportation for years to come."

About BiTA
Founded in August 2017, BiTA has quickly grown into the largest commercial blockchain alliance in the world, with more than 450 members that collectively generate over $1 trillion in revenue annually. BiTA members are primarily from the freight, transportation and logistics industries. Alliance members share a common mission to develop a standards framework, educate the market on blockchain applications and encourage the use of those applications.