It's official! Hassett recently moved into a new facility in Atlanta, GA, in close proximity to Hartsfield-Jackson Atlanta International Airport. In addition to easy airport access, we were pleased to find a larger, newer facility located near one of our trucking partners.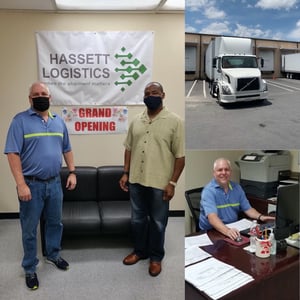 Hassett has been active in the Atlanta market for more than 30 years. The operations supports both domestic and international air cargo as well as nationwide ground transportation.
A great deal of work went into getting the operation up and running. A huge thanks to Dennis Cartwright, VP of Operations, Mark McClain, Atlanta Terminal Manager, and the entire Atlanta team on making the move happen smoothly and on-time. Based on Mark's smile in the picture, we think he's very happy. He and his team are ready to take on more business!