Frank is the Senior Vice President and is in his 33rd year at Hassett.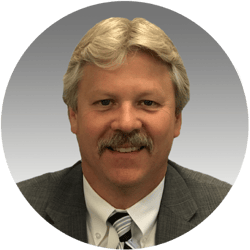 What does your vertical focus on?
With my October 2020 transition into the Senior Vice President position, it is my privilege to work alongside four of the most dedicated Vice Presidents in the business. They lead Network/eCommerce, Expedited, Specialized, Sales and Marketing. These leaders combine for over 120 years of industry experience, and there is little they have not faced in the logistics business. I am delighted to support and promote growth in these verticals, lending a hand or offering my perspective. The goal is to enable our customers, achieve their commitments and grow each of our business verticals. I promote new business opportunities from the sales department within the verticals aligning our integrated strengths to deliver our overall company growth strategy and success. However, as the logistics industry continues to evolve, a few critical factors have not changed for me over the last 33 years; growing Hassett, increasing profitability, and servicing our customers to the best of our ability.
Tell us a little about yourself?
My marketing professor in college taught us the value of being on time, coming to work sharp every day, and dress for success. As my friends at Hassett can attest, I take that seriously and like the white shirt, tie, and suit. Coming to work with the right attitude ready to make a difference and help support our customers drives me today as much as it did 33 years ago. Hassett has allowed me to grow, take on new responsibilities, work with great colleagues, and, most of all, exceptional customers! I love the supply chain/logistics industry; transporting commerce is exciting, fulfilling, challenging and no day is the same. We have moved some unique things and helped customers with some unusual projects, but that's what makes it fun! Hassett is nimble enough to take on complex projects and rooted in sound business practices along with talented and smart employees to get the job done right. A marvelous industry to be in and a great company to work for!

What is a fun fact about yourself?
First, my history with Hassett goes back to my college days. I believe I was the first college intern here at Hassett, which is unique and cool! I think about the long history of Hassett and the fact that when I started working here, there weren't desktop computers, laptops, or cell phones. Now we carry computers/phones in our pockets! I enjoy working, both at home and at the office, but as I grow a little older, I find the need to stay or in my case get healthy. So, like my coworker and Network Vice President Don Prentice, noted in his profile, I too have taken up yogurt!! I find it very satisfying, especially in the morning. If I feel like taking on some risk, I add granola to it. Man, that's living! (…..My fun fact is I like having fun with my co-workers/friends!)

What does The Hassett Way mean to you?
The Hassett Way is an attitude and mentality. It is a way of doing business that is practiced here at Hassett. We strive to set ourselves as individuals and collectively as a company to be the best in what we do and serve our customers with a high level of service each and every time they engage us. It means going the extra mile, making that additional phone call, check the status of a shipment just one more time before leaving for the day, and answering the phone after hours, weekends, holidays. Why? Because our customers are counting on us, or need us to keep a commitment, they made to their customers. The greatest thing we have to offer is service and our word. It is our commitment. When we onboard a new customer, we put our arms around them, and we don't let go. That is why we have long-term customers here at Hassett. We build relationships, not just move shipments. When things don't go as planned, we are on the job, looking for an alternative, a solution. Setting expectations and rising to the challenge. Go above and beyond. That's the Hassett Way!