Matt has been with Hassett for a total of 32 years between two stints. He started as a driver and warehouse helper between 1982 and 1994, left for another opportunity, and then returned in January of 2000.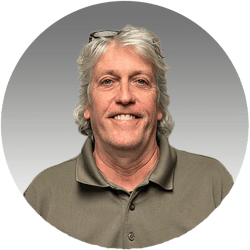 What work does your vertical focus on?
The Specialized Services team focuses on serving our current and prospective customers with specific and sometimes unique logistical needs surrounding their shipments critical to their success. We enjoy problem-solving and finding solutions that often involve a great deal of collaboration between the customer, our partners, and the Specialized team. We focus heavily on white glove shipments that require precise planning, capacity resourcing, seamless execution, and timely communications that include photo documentation and customer portal uploads as well as traditional lines of communication. We are well versed in the world of automated retail installation. We have installed a wide variety of kiosks throughout the United States that require specific training, tools, detailed planning, communication, and execution between various parties. We believe it is all about collaboration. We also pride ourselves in helping our customers solve their project needs by employing our large network of white-glove partners around the country for both transportation and warehousing. Using our network and expertise, we have successfully handled many retail rollouts for a wide variety of customers. Our goal is to figure out ways to get things done that are equitable for all involved parties. We believe in treating our agents and customers as real partners, and we strive to be a company that is easy to do business with. At Hassett, we realize that our network of partners is critical to our success, and we choose them wisely by making sure their values and work ethics align with ours. I am very fortunate to be working with such a talented and diverse group of teammates that never shy away from a challenge and are solutions-oriented. The team in Specialized stands ready to assist with your next shipment or project!
Tell us a little about yourself?
I began my career at Hassett working as a high school kid over the summer, working in the warehouse and on moving jobs. I quickly realized that becoming a driver would raise my income, so I got a C class license. When I was 20, I moved up to a D class license (which now is called an A-class license). The additional income and flexibility in my scheduling that driving bestowed upon me allowed me to put myself through school, handling airfreight shipments at night and on the weekends and attending classes during the day. I was involved in opening our terminals in Atlanta, Boston, and Phoenix before I departed from Hassett in 1994 to take a purchasing position in the plastics industry. I can tell you that it was an enormous adjustment going from being out on the streets to being anchored to a desk. Still, it made me appreciate everything that I had learned during my first go-around at Hassett, and I will always have the utmost respect for drivers and the job they do. During the six years I was gone I worked in an entirely different industry, received my Illinois real estate license and opened up a sandwich shop with my parents that eventually became two sandwich shops (I have always been restless). I returned to Hassett in January of 2000 as an operations manager and held the positions of Terminal Manager and Director before being promoted to Vice President. Although my path has been a long one, I am proud that I started at the bottom, listened and learned, and did my very best with the opportunities that came my way to get to where I am today at Hassett!
What is a fun fact about yourself?
My greatest loves have always been music, motorcycling, and baseball. I coached youth baseball for many years, and there is nothing as rewarding as watching a child that signs up for the team with little to no baseball IQ, who ultimately learns the fundamentals of the game, makes a few plays and gets their first hit! I held the position of Vice President for the Gompers Park Athletic Association for many years and just resigned this year due to time constraints, but I still coach. I love playing my guitars as a way to relax and enjoy playing music with other musicians. I grew up riding mini-bikes, and although I have tried to give it up, I still ride a motorcycle today (but now I wear a helmet).

What does The Hassett Way mean to you?
The Hassett Way goes beyond the three words. It is a philosophy that is rooted in outstanding service, accountability, and, most importantly, integrity. We are a company that keeps our word to our customers, our agent partners, and each other. The Hassett Way is authentic, and I am proud to be part of it. If you haven't experienced it, I urge you to give it a try!