October 16th marks the 8th anniversary of when we formed Hassett Express, LLC. We rebranded as Hassett Logistics in 2020 and continue to build upon on our commitment to exceptional service and relationships with our customers and vendor partners. I talked about our story in last year's anniversary blog – our people, customers & services – which you can read here.
Here is an excerpt from the press release on October 16, 2013:
We are looking forward to the growth opportunities that lie ahead. The culture and traditional values of Hassett have never been stronger. We will continue to provide a variety of ground and air services necessary to meet and exceed our customers' requirements. Delivery of effective transportation solutions supported by a high level of customer service will be the key to our success.
Though Hassett's roots go back many decades and a strong foundation was laid, I am so proud of what we have achieved by focusing forward. The past 18 months have been full of challenges as well as many opportunities. Our eCommerce, project work and other specialized businesses continue to be strong, and our entertainment segment has regained momentum in the past few months. Through it all, we've faced everything together as a team.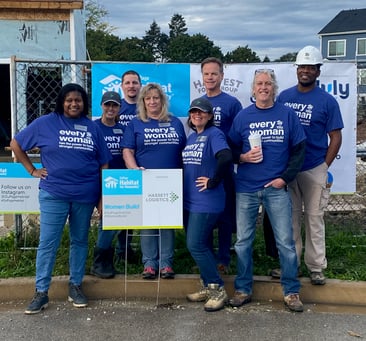 Our success and growth would not have been possible without our amazing team. I'm very proud of the strength, dedication and creativity demonstrated by each of our team members. They are supportive of our customers, each other and our local communities. Hassett is a multi-year sponsor of DuPage Habitat for Humanity's Women Build and our team was on-site this week to assist in a townhome project. I'm also proud to share that our team was recognized as a 2021 Best Places to Work in Illinois.
Thank you to everyone who has been part of our story. I am grateful and inspired every day to witness what can be accomplished through trust, relationships and an unwavering commitment to exceptional service. We're on an exciting journey and I look forward to creating the next chapter together.